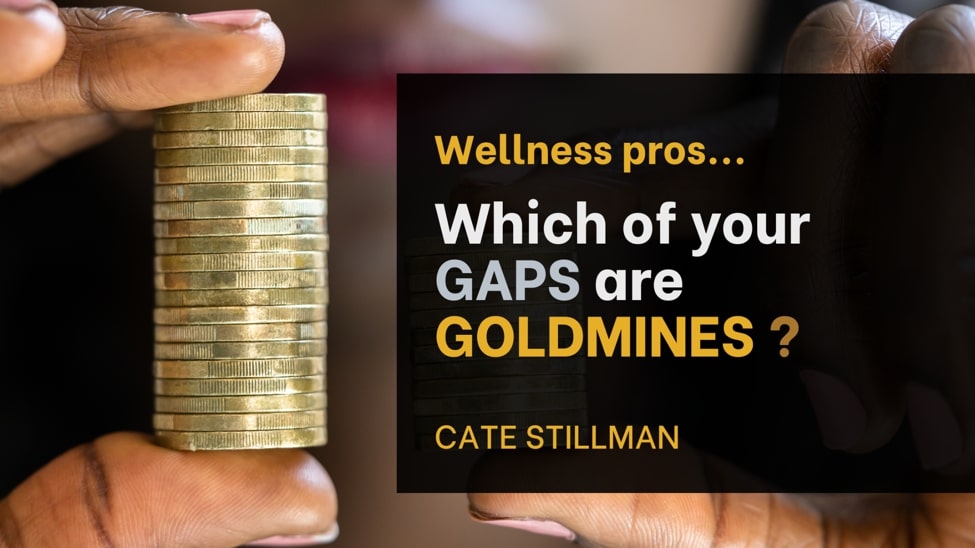 Wellness Pros: Which of your GAPS are GOLDMINES
Most wellness pros I've coached are exceptional in their care, body wisdom, personal biohacking, and subtle physiology understanding.
Yet, often, wellness pros don't know how they can offer the most transformational value to their clients. There are gaps. Gaps in their clients' commitment. Gaps in using technology. Gaps in developing an experience to guide people into their potential. Gaps in leveraging the collaborative potential of their clientele. Gaps in turning healing skills into a transformative journey. Gaps in their leadership.
You need to thrive–personally, professionally, and financially. If you aren't living your impact and income dream, you are less of an asset to your client community. If that is your goal, let's mine your gaps.
Gaps are gold mines of opportunity.
Let's mine for the gaps where you leave client results and a heap of gold on the table. When you close your gaps, you'll do the best work of your life, have the flexibility you want in your lifestyle, and reap the hard-won but truly liberating rewards of financial freedom. Plus, you'll receive my best, current insights.
I've led transformational clubs for over two decades. I've coached wellness pros into the scalable financial club model behind this career path.
I was successful as a wellness pro and wellness community developer early in my career due to discovering the CLUB model in my early days at the helm of Yogahealer.com. I'm devoted to wellness pros living from their lifestyle so people in our communities can thrive and have smarter choices to invest in a future of wellness versus sick care.
I'm known for telling you exactly how it is. As a futurist, an author, and a thought leader of east meets west, science meets ancient wisdom, I'm known for guiding my members at CLUB THRIVE to reverse chronic inflammation with primal habits. I'm known at WELLNESS PRO ACADEMY for guiding wellness pros into a career beyond their wildest dreams. Leading the club through a journey only they could lead. I love to be exceptionally useful to holistic wellness pros, as you love to be exceptionally useful to the people you most want to serve.
You'll need skills in attracting, engaging, and enrolling your members. These skills aren't optional for those who want to live from a wellness lifestyle and avoid turning their wellness career into a daily grind. These questions will help you close your gaps, and build your best club.
Questions to Build Your Best Club
What do the people who you want to work with need the most?
What skills do they need to learn?
What beliefs do they need to change about themselves and their future?
What obstacles are in the way of their transformation?
How can you make the most effective and enjoyable wellness results of their life?
How can you save them time?
How can you save them money?
How can you measure their progress?
How long will it take for them to experience transformational results?
How long will it take for them to live the habits that lead to those results?
Growth generally requires your growth. You have to reprioritize your attention and time to package a transformational journey into a club. Then you'll need the skills of enrollment. Then, lead skills. These skills are leverage-able–meaning the better you get at them, the more time you'll have for your life. And you need time for your life. Your thriving lifestyle is what attracts people to you. You are the product, the guide, and even a member of your own club. If you want a 1-1 wellness career coaching session, we can understand who you are. We'll help you clarify your values, mission, ambition, and business model for success. We'll guide you through a process to define your A to B.  We'll show you how to design your potential Club,  built from your unique convictions, mission, training, and ambition (Use this promo code to get a huge discount as a blog reader: BLOGREADER)